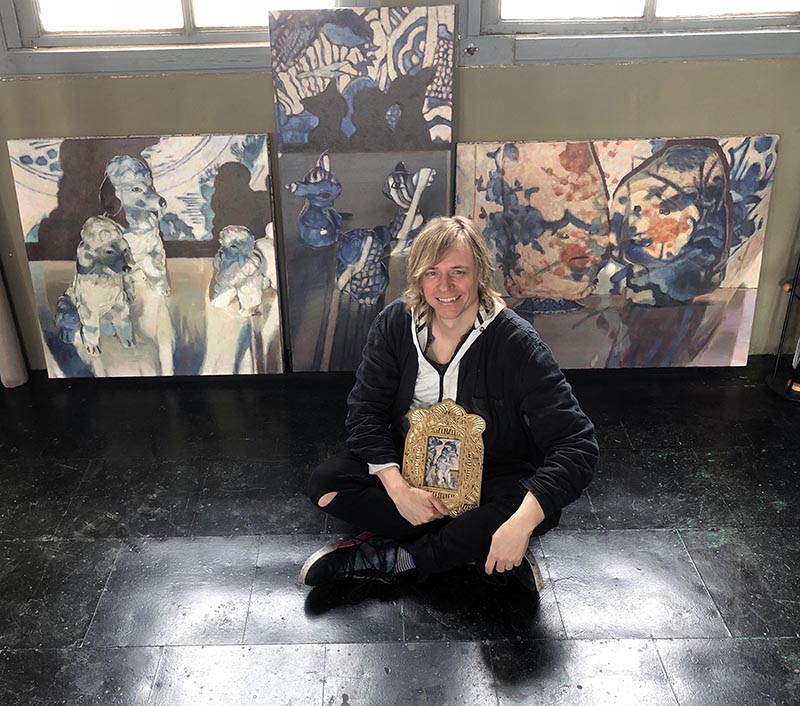 In this new series called the Blue Series, I explore Delft blue and Eastern blue porselin and ceramic patterns. I paint white objects or light object which function as a blanc for the these patterns. Porselin poodles, woolen masks from a theather from the '30s and other light objects. The next in line will be a live model: a beautifull human face(with albino complexion) and perhaps a white dog of my neighbors. It offers a plethora of possibilities these series and I never know what is going to be 'born' as a work of art, when I start. It is quite exiting to create these and I am fond of the abstract in contemporary works (and classical works alike). The decorative patterns of these works enhance this.
I hope you enjoy them as I do making them.
A happy new year to all who read this posts and visit my site.
The new newsletter is here (only in Dutch).
Exposeren bij K&C in Assen.
In het pand van K&C aan de Dr. Nassaulaan 5 in Assen exposeren op dit moment de Alumni Kunstenaars van de Klassieke Academie in Groningen.
Ruim dertig kunstenaars presenteren schilderijen en beelden die zij tijdens of na hun opleiding hebben gemaakt.
K&C is blij met de werken die een half jaar in het gebouw te zien zijn.
Adviseur beeldende kunst Peter Hiemstra: "Elk half jaar nodigen wij een kunstenaarsgroep of -vereniging uit om het gebouw van K&C aan te kleden met werk. Door de wisseltentoonstellingen worden bezoekers, maar ook medewerkers, steeds weer verrast met nieuwe werken. Het is de eerste keer dat de alumni van de klassieke academie in het gebouw exposeren. We zijn erg blij met het werk van AKKA dat een beeld geeft van de opleiding aan de Klassieke Academie in Groningen."
De kunstwerken, die in de gangen en kantoren van de medewerkers hangen, zijn elke werkdag van negen tot vijf uur te bezichtigen, behalve in de schoolvakanties. De tentoonstelling duurt tot 1 juli.
Ik heb er zelf twee werken hangen: Vensters #1 en #2, De laatste is hieronder afgebeeld.