Some artists have a very clear 'signature'. In the same subject mostly, with a specific color palette or specific style.
On the other hand and I feel much more for that is experimentation; trying new things, discovering things with paint, different subject matter and have some less boundaries. I like that and it is nice to see how I as an artist develop. I do not like the same things as I did some years ago and maybe I can create more or get more free within the limitations of paint…
I think for a marketing point of view, having a very clear brand or branding is a plus. For the sake of an artist view it might not be so. Like Morandi, the paintings have a large denominator and are quite similar in feel and appearance. I love them! (well most of them). And like some of my works, they seem to cancel each other out. What I mean: when you see more then one, beside each other their impact dimishes. They could be seen like that recently in the Museum in Heerenveen. They are better viewed i.m.o. as 'worlds' apart instead of a group, but that is beside my point here 🙂
The brand of Morandi works and that can be good, but it also fixes the artist to it. I've read somewhere not to worry about thematics when painting: just paint what you love to paint, and the thematics will aways be there (in retrospect). Let's keep on doing just that!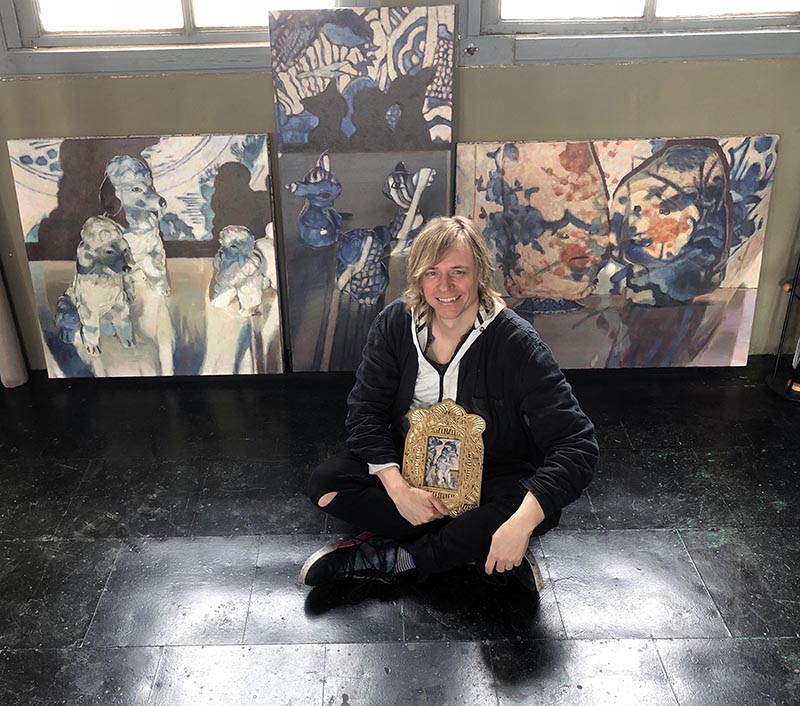 In this new series called the Blue Series, I explore Delft blue and Eastern blue porselin and ceramic patterns. I paint white objects or light object which function as a blanc for the these patterns. Porselin poodles, woolen masks from a theather from the '30s and other light objects. The next in line will be a live model: a beautifull human face(with albino complexion) and perhaps a white dog of my neighbors. It offers a plethora of possibilities these series and I never know what is going to be 'born' as a work of art, when I start. It is quite exiting to create these and I am fond of the abstract in contemporary works (and classical works alike). The decorative patterns of these works enhance this.
I hope you enjoy them as I do making them.
A happy new year to all who read this posts and visit my site.
The new newsletter is here (only in Dutch).