A B O U T
About the artist Bas Nijenhuis
Adventurous Magic
The works by Bas Nijenhuis are determined by two aspects: a great fascination for painting technique itself and at the same time the content. The latter is mostly about the qualities of light.
1
Without light there is no life on earth. This light is also what gives life to a painting. Capturing this light is a denominator in his work.
Life and 'animation' are searched for in the subject: images with a psychological side, intimate and subdued. Oftentimes humans, children or objects are depicted as a vessel for this search.
These are all portraits as it were: portraits of an inner world. Both of the subject as of the painter. A meditation on life and all aspects.
2
The technical side is a great motivator too. To find out what paint can do. Simple matter, but endless possibilities. Thick, thin, opaque, transparent, color and structures. In his works the enjoyment in experimenting with these is noticeable.
That streaks of paint and color -in essence very abstract- can form a reality and marvel on their own is for him the true magic of painting.

by AR[T]MOIRE:
Bas' art allows us to give free rein to our own imagination. His art is capable of enveloping us in a world between what is and what is not. It is becoming entrapped in a moment where you can see how each subtle brushstroke gives more than one story to tell and somehow or another you are a witness to this all. His works of art allows us to step before an entrance that contains an array of tales and each one deserves one's attention. In all, his works of art have a certain freedom to them that simply invite you for more.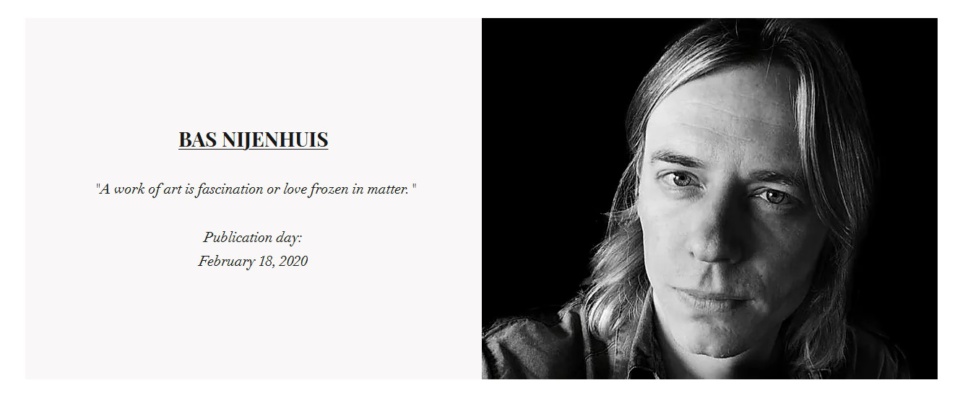 2023 Solo Exposition Societeit de Harmonie
2022 UMCG Solo expo 'Oogheelkunde'
2022 Partake in expo:Italian Dream and previous: art of the portrait, @gallerie Autrevue Heerenveen
2022 Selected works Wintersalon Pictura
2022 Selected work and rejected later (because no 'portrait') 'Asleep' Weekend of Portrait In Memoriam' (by dNP)
2021 Figurativas 2021 selected work and exposition, Barcelona
2021 Solo exposition: Kunsthandel Peter ter Braak
2021 De Nederlandse Portretprijs, winner: publieksprijs, slot Zeist
2021 Pictura: 'Corona en de verkoop'
2020 Start Teaching at Klassieke Academie, main curriculum 2nd year: 'composition and expression'
2020 Ego or Emo: Northern Portrait art exposition
2019 November: Pictura Groningen, 'De rode draad' with works from the blue series. 
2019 Selected BP Portrait Award 2019 
2019 Sep 5th Expo Cass Art London: Face to Face and interview here
2019 Sep 7th Expo: Gallery DSG Assen, selected alumni Klassieke Academie
2019 Sep 14th Expo: Theater en de verbeelding, various artists
2019 August Expo @ Gallery 'Drentsche Aa'. 
2018 Selected 'Weekend of the Portrait' with selfportrait
2018 Teacher at the Klassieke Academie (Classical Academy of fine arts): intro courses
2018 Expo: 'Best of AKKA', galerie Paterswolde
2018 Expo: Zofier 'Meer Mata Hari' met 4 schilderijen: 'Strong Women'. 
2018 Expo: Pulchri Den Haag
2018 Expo: K&C (Kunst & Cultuur) Assen
2017 Expo: Beelden in Gees
2017 Expo: Lawei in Drachten
2017 Expo: Galerie Paterswolde 'Pracht en praal'  
2017 Graduation Exposition: Pictura Groningen
2017 Paleis Soestdijk, presentation: 'ontmoet de meester' (meet the master) part of the Netherlands Portrait award 2017
2017 Selected: the Netherlands Portrait award 2017
2016 Expo: Greetsieler Woche (Duitsland)
2015 Expo: 'Buitengewoon Veendam' with the Klassieke Academie
2013 Expositie UCMG, various works
2012 Expositie Lentis Groningen, various works